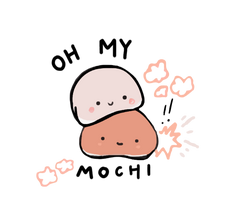 oh my mochi
we love you so mochi
---
storage instructions
1. storage instructions
mochi
store in freezer for up to 5 days, defrost before consumption. do note that the texture of the strawberry in the strawberry daifuku will change once it is frozen.

mochi brownie/blondie
store in fridge for up to 3 days. heat up at 100 deg for about 5mins or consume it cold for a fudgier bite!

mochi bun
store at room temp for up to 3 days. heat up at 100 deg for about 5mins.
ordering
1. how do i place an order?
you may place an order through our order form: tiny.cc/_ohmymochi or just click the 'order' button above

2. what is the lead time for your orders?
all orders have to be placed 24 hours before the delivery/self collection date to allow us ample time to prepare the ingredients.

3. i can't find the delivery date that i want
due to the capacity of our mochi kitchen, we only offer a limited number of slots per day. we also operate on a part time basis, so if you are unable to select the delivery date on our form, it is likely that we are full or we are closed on that day.

however, you may drop us a message to check with us and we might be able to free up some slots for you!

4. can i cancel/obtain a refund for my order?
unfortunately, no cancellations or refunds are allowed. you may wish to check with us if we can reschedule your delivery/collection date
self collection/delivery
1. do you offer self collection?
yes and it is free! we are located at shelford raod (10 mins walk from tan kah kee, 15 mins walk from botanic gardens). you may arrange for a self collection any time after 2pm. do check in with us should you wish to collect your items before 2pm.

2. do you offer delivery services?
yes! our delivery fee is $10 islandwide (excluding jurong island, + $2 for sentosa). the delivery fee is waived to a single location for orders> $60.

our mochi is usually delivered between 3pm - 8pm. additional charges may apply for deliveries to be made during specific time ranges.
payment
1. modes of payment
we accept paylah/paynow and bank transfer. more details will be shared over whatsapp when we confirm your order.

full payment will have to be made for the order to be confirmed.
customisaton/bulk orders
1. what kind of customisations do you offer?
mochi
we can customise a variety of mochi designs (subject to discussion)! examples include: minnie mouse, farm animal theme, 80th birthday theme, sushi carousel, batman, and spring theme. feel free to check out our instagram/facebook for photos of past customisations!

mochi brownie/blondie cake

we offer mochi add-ons for our mochi brownie/blondie cake.

2. is there a minimum order for the customisations?
yes...and no! we require a minimum of 2 boxes of 6 mochi for mochi customisations. there is no minimum for brownie/blondie cake customisations.

3. can you provide me with a quotation and a mock up design?
of course! do drop us a whatsapp message at 8817 3600, together with the quantity and design/theme you are looking at. we'll then advise you accordingly.

4. are there any discounts for bulk orders?
yes! orders > $500 are eligible for a bulk purchase discount. do drop us a whatsapp message at 8817 3600 for more details.

5. can you provide me with an invoice?
yup, for sure!